Homework Expectations
Homework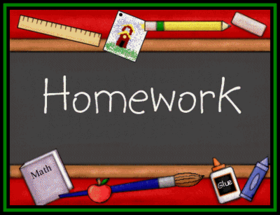 A large portion of being successful is ensuring that all class work is completed on time and to the best of the student's ability.
There will be occasional math revision. This is to ensure that students are getting regular practice. If your child is having a difficult time on a question, please don't spend more than 10 minutes, simply initial the question and move on to the next. I will assist your child at school.
Quizzes- I will give the students a quiz once or twice per unit (depending on length and amount of learning outcomes). Each quiz is short and directly related to the previous concepts taught during the unit. These are to show what lessons the students need to focus on and where they may need extra help.  
Reading journals are something we are doing in class this year. This is to provide students with the skills to self reflect on their own selections of text. These are meant to be short, with some concrete information describing what part in the story they are at, if they are enjoying the book or not, and why, show evidence of their understanding of the book. 
The reading journals are to be completed and handed in every week on Fridays, in the event of a short week, I will expect them on the last day of the week. 
Any other homework that is sent home will be as a result of the work not being completed in the class time given or any corrections that should be made on an assignment that is handed back. I will provide a fair amount of time for students to work in class, to ensure they have access to additional instruction and guidance.